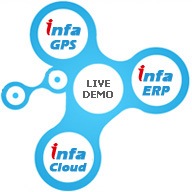 Products

InfaERP

InfaGPS

InfaReal Estate
InfaGPS Vehicle Tracking System
InfaGPS., a leading provider of GPS vehicle tracking systems, aims at offering innovative and cost effective vehicle tracking solutions comprising of hardware as well as software. InfaGPS tracking technology is best suited for fleet management. It is an unique way for companies and individuals to monitor and control their cars, jeeps, trucks and other vehicles to their precise details by sitting in the office.
Find Secure GPS tracking system will enable you to monitor the movements of your employees, drivers, vehicles or any other asset accurately.
With Find'n'Secure vehicle tracking systems in your company's fleet vehicles, you will find an smart way of fleet management by tracking your vehicles. Whether you own one truck or a fleet of thousands of vehicles, our highly skilled InfaGPS fleet consultants will assist you in selecting the right type of vehicle tracking system that will give an edge to your company.
GPS Tracking
A InfaGPS tracking unit can determine the precise location of any individual or vehicle carrying the InfaGPS receiver. Data about location and other aspects can be stored in various forms, depending on the type of tracking unit. The location of the object or individual being tracked is often recorded at regular intervals.

Recording of an object can take place within the InfaGPS receiver unit, or can be transmitted to a central location such as a database, where it can be accessed either via mobile technology or over the internet. GPS tracking systems can typically be viewed in real-time and have a map in the background to display the current location of an object.
Vehicle Tracking System
Personal Tracking
Pets Tracking
Fleet management
Our fleet management software is 100% web based, so there's never any physical software to buy or troublesome updates to download. And you can quickly integrate it with other routing and dispatch applications to further improve your fleet management.
Parts Management
Employee Management
Scheduling
Work Orders
Fuel Log
Trip Log
Tire Log
Accident
Asset Management
Online Asset Management is a InfaGPS Asset Tracking System, helps your organization to manage valuable assets efficiently and affordably. This system aids in loss prevention, distribution efficiency and customer satisfaction. Valuable equipments can be tracked anywhere in the world to locate the presence and track movements.

The mining industry and construction industry with their equipment scattered across the globe will be immensely benefited by deployment of GPS based Asset Tracking solutions. The position of inventory can be easily tracked and monitored. Cost of operating a vehicle/equipment is a critical expense to manage. The online Asset management system lets you to monitor that your vehicles/equipments are operated to their maximum efficiency.
Readmore