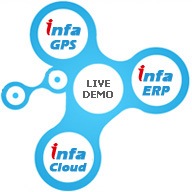 Products

InfaERP

InfaGPS

InfaReal Estate
InfaERP
InfaERP is a web based ERP solution for small and mid-sized businesses that integrates all the business functions across your organization - Sales and marketing, Customer relationship managment, Financials (with Tally reporting compatibility), Warehouses and production management, Purchasing, HRM and Business Intelligence.
Why InfaERP?
InfaERP was built with the objective of providing an easy to use and cost effective ERP solution that provides immediate bottom line benefits to your organization. Key benefits -
Improve operational efficiency - Store all your sales, operations, financials, CRM, inventory data at one point and retrieve with ease.
Intelligent and quicker decision making - With all your business data at your finger tips and intelligent reporting to decipher the same, you can respond better to the changing business landscape.
Rapid Deployment - Our easy to use interface means quicker time to speed for your staff and less overhead during the deployment phase.
Zero maintanence - With the option for cloud deployment, forget all the maintanence overhead and concentrate on your business profitability.
Why Cloud?
` A cloud based architecture reduces your infrastructure requirement to implement an ERP to a reliable broadband connection and a PC. With a Tier 4 data center hosting the server and SSL encrypted line, your data is safe and secure with us.
Readmore